Everybody loves a good old fashioned nostalgia tour.
After all, Jesus Christ has been AWOL for two millenniums and people are still hoping for his glorious comeback, right? In music, we've seen it time and time again: Artists who you thought were either dead or living on a remote island have come back in roaring form for a live performance, inciting a mass stroll down memory lane to remind you of a more carefree era of your life – one that was defined by drinking goon in a park, making out in movie theatres, flip phones and flipping off old people at your local Westfield mall.
In recent years, Australia has been treated to nostalgia-driven tours from Nelly, Ginuwine, Ja Rule and Mya, just to name a few. Come 2017, we'll witness shows from Vanilla Ice, Atomic Kitten, Coolio and S Club 7 – who have now been reduced to the flimsier S Club 3. Still, Bradley remains a proud member of S Club 3 and that's all that matters. Bradley for Prime Minister!
While she's jumped in, fallen out and tip-toed around the mainstream spotlight since the turn of the century, there's no doubt that Paris Hilton was one of the most recognisable and polarising entertainment figures of the 2000s. With her endless source of quotables, trademark pink aesthetic and cute chihuahua, Paris shifted the way we think about reality television and celebrites on The Simple Life – providing us with countless hours of mischievous antics and top-notch banter alongside Nicole Ritchie.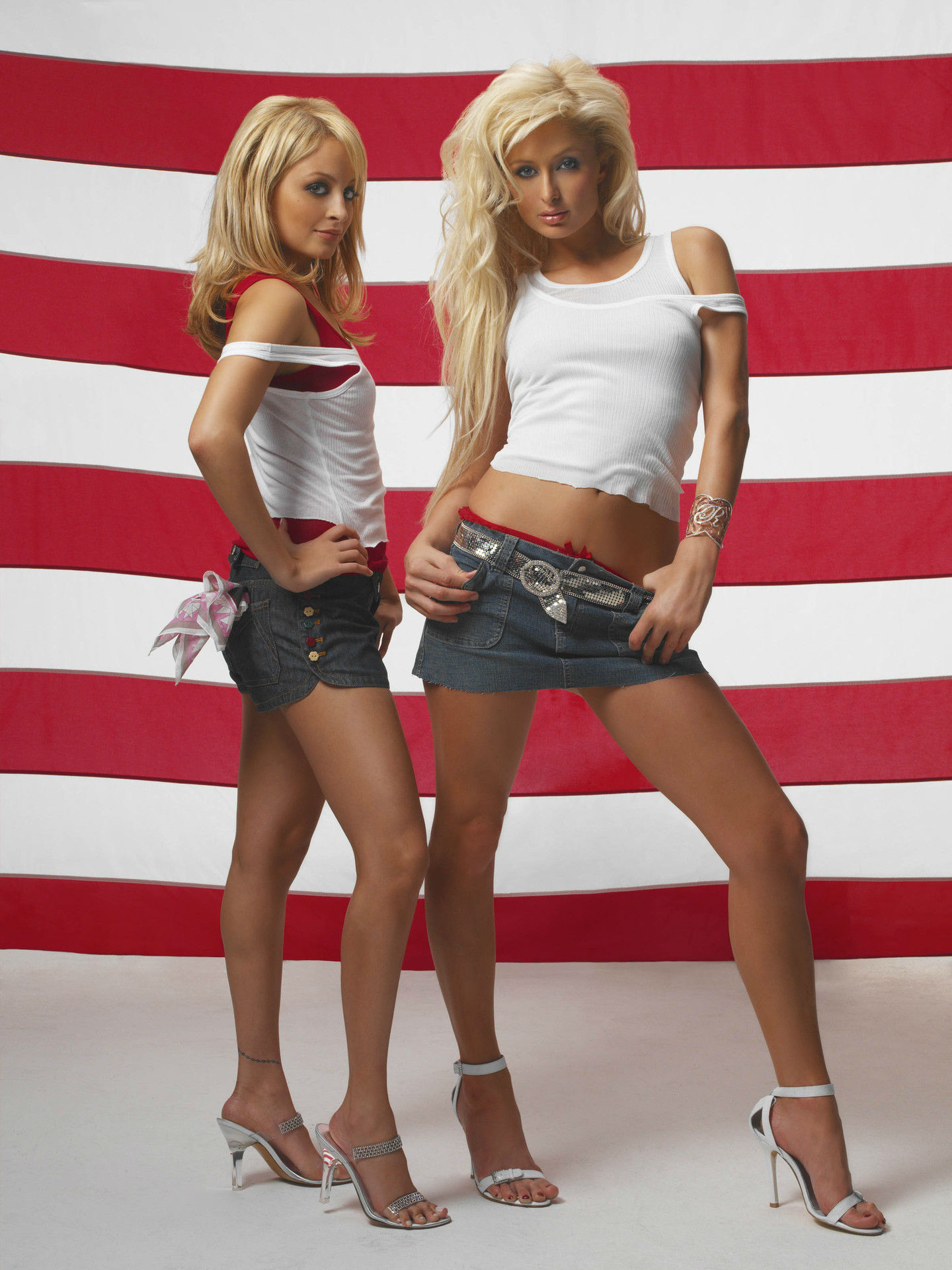 Paris also pioneered the modern 'socialite' profession – people who are famous just for being themselves, drinking copious amounts of vodka, getting into fights with paparazzi and wearing designer clothes. Also, let's not forget that Kim Kardashian was Paris' weed carrier at one point, so we have her to thank for this decade's most dominant empire of leading ladies. The flocks of models promoting coconut water and detox products on Instagram are, in a way, descendants of Paris: An OG #influencer who climbed to the top without the help of a double-tap or a share button, and more importantly, one who was able to translate her media presence into sizeable financial gain.
While Paris has not reached the same heights as her Golden Era in the 2000s, one of her recent forays has achieved global attention: DJing. With the rise of dance and beat-based music at mega-festivals around the world, the art of DJing has come under more scrutiny than ever as more random celebrities head behind the decks. It seems like every week we are fed a new opinion or thinkpiece about what actually constitutes a legitimate DJ performance, and the EDM world – wrapped in all of its sensitivities and soft spots – has struggled to find a decisive answer as it fist-pumps its way into earholes across the globe.
In 2012, Paris made her DJ debut in Brazil in what has to be one of modern civilisation's biggest catastrophes since servos started charging for those tiny squeeze packets of tomato sauce. The set – some of which has been immortalised on YouTube – was slammed by EDM professors like DJ Sneak and Deadmau5. Still, Paris' star power was bright enough to get her booked for residencies at Amnesia Ibiza, while she also named herself as one of the world's top five DJs.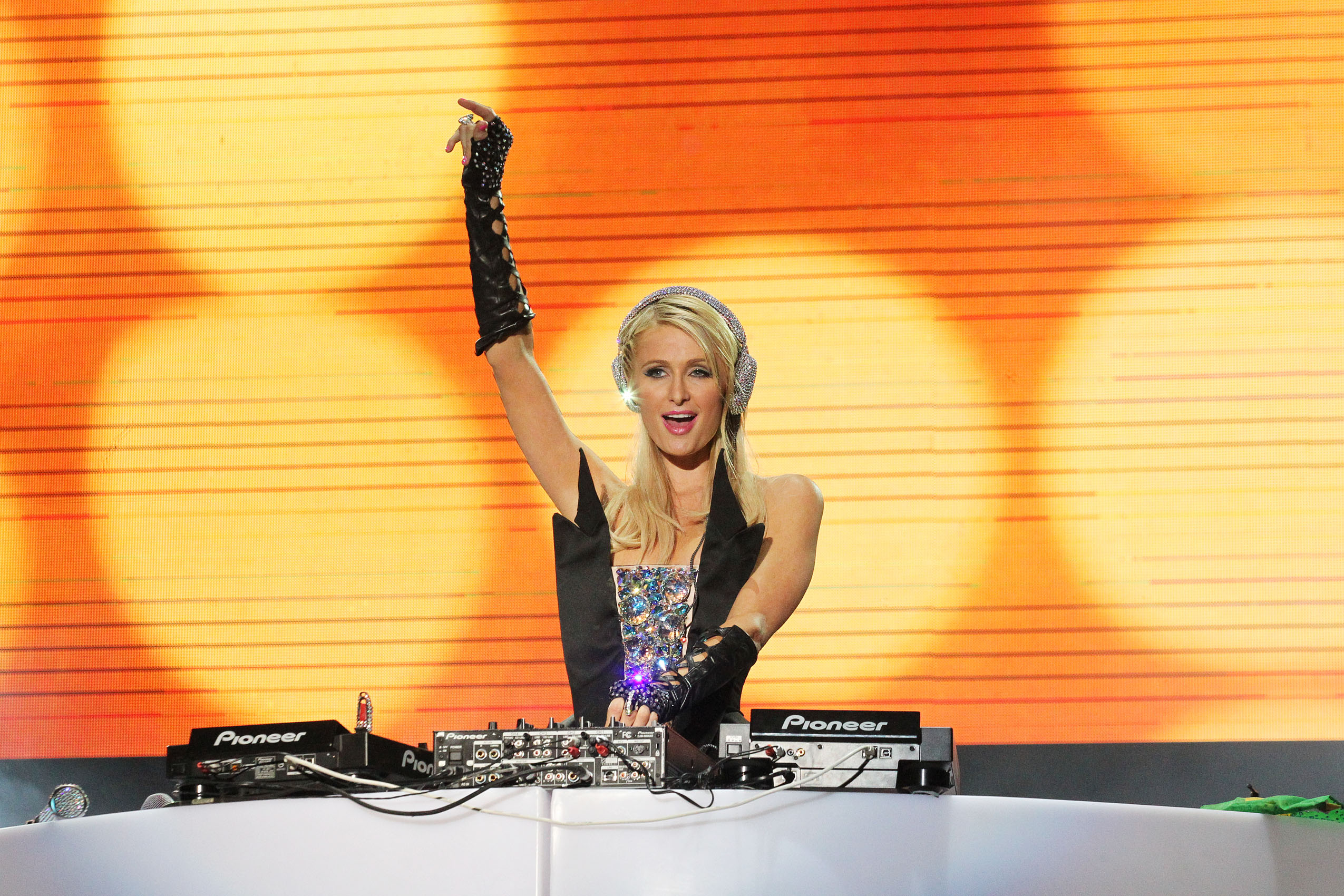 Making such bold claims so early into her DJ career, we had to see if Paris had earned her bragging rights, and headed along to Marquee Sydney for the hugely-hyped Gold Rush tour – named after her new fragrance. Double whammy!
With the ticket reminding male punters that a collared shirt is necessary to gain entry, I'm left rummaging through piles of hoodies and trackpants in order to find some adequate smart casual club wear. Arriving at the casino, it's clear that others have opted for the Tarocash/Industrie route of clothing à la Year 10 high school formal, complete with pointy leather shoes and copious amounts of hair gel to craft indestructible slick-backs that could withstand the force of a hurricane or a very strong air conditioner.
Sliding through the maze of pokie machines, blackjack tables and people who look like they haven't slept in awhile, we finally find the Marquee doors and are subjected to numerous ID checks and sturdy security guards. Despite all of the bright lights, colourful screens and seductive waitresses, it's hard to shake the overall feeling that the casino is depressing as fuck – especially if you're not here to get the cold prawns and tartar sauce from the buffet restaurant.
Once inside, the bar queues are short, making the $12 vodkas much easier to swallow. There is your usual crew of house music jerk-offs, munted punters who get so cooked that they forget basic human manners, and regular people who are probably attending this gig out of curiosity. Either that, or one of their friends is rich enough to get table service, which consists of ladies pouring Belvedere on request. When the Belvedere isn't being served, it's locked in a cute clear cabinet on your table, letting everyone know that you're drinking a beverage that deserves its own miniature bedroom.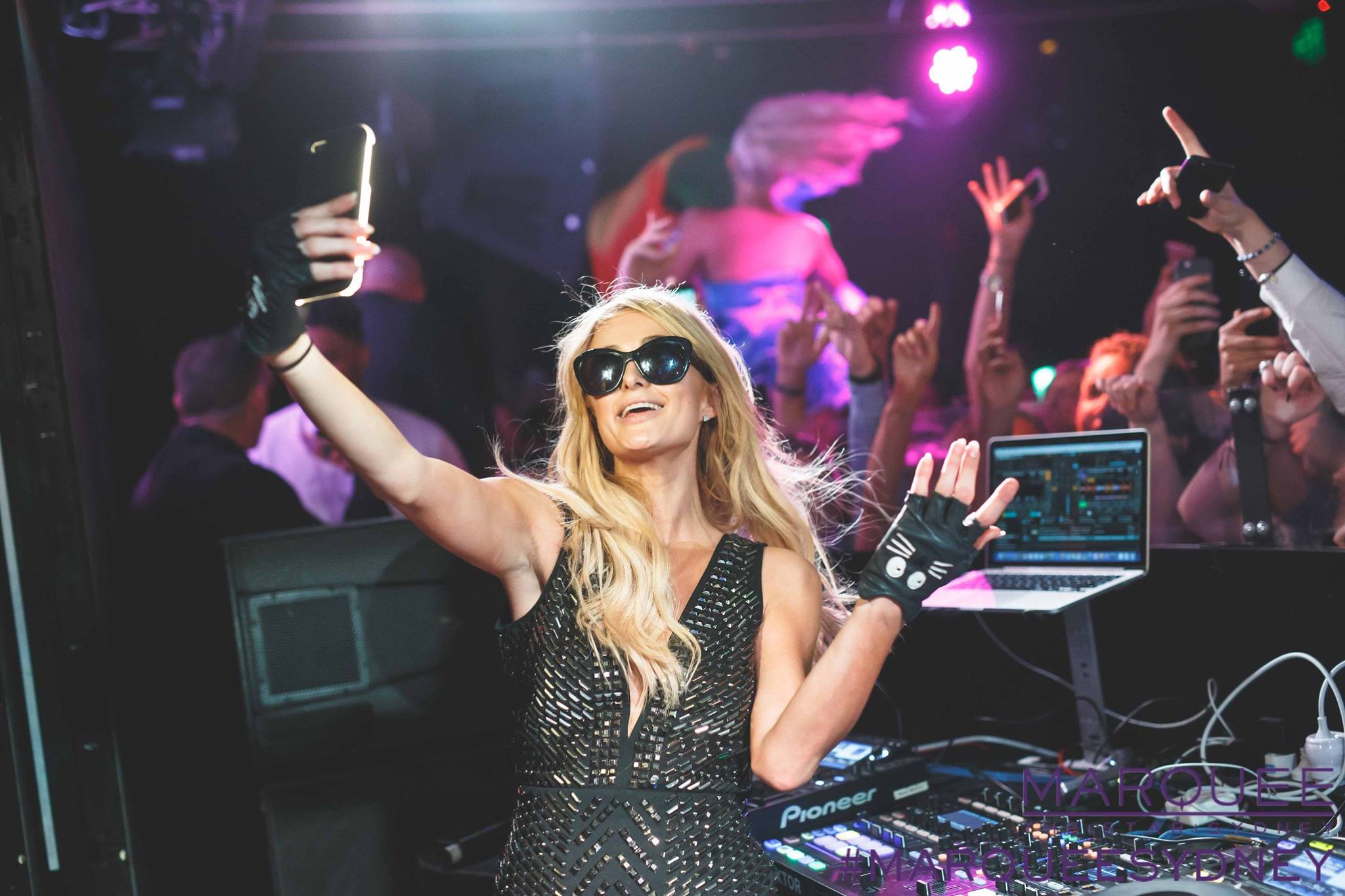 By the time Paris climbs onstage, it's 1:20am – just in time for the lockout laws, if the casino were subjected to any – and the croaky-voiced DJ welcomes Sydney to a thunderous applause. The dancefloor is crammed with people holding their smartphones high in the air hoping to grab a selfie with Paris, or sending Snapchat videos to their friends who couldn't be bothered forking out 35 bucks to relive The Simple Life in EDM form.
From the back of the room, the sea of smartphones is so thick that you can only see Paris' hands waving in the air – dressed in gloves that have been decorated as kittens – as she churns out throwback rock anthems by Nirvana, Red Hot Chili Peppers, Oasis and The White Stripes mixed with big room house, plus trap bangers from O.T. Genasis and the ilk.
Marquee's clean sound system does nothing to help the clunky transitions and mixing when Paris is onstage. She tells the Sydney crowd that they party harder than Ibiza, and stops them for not one, but two mid-set Mannequin Challenges. Just like dabbing and every other dance phenomenon except for the Macarena, I can't say that I'm a fan of the Mannequin Challenge, but it does give me a chance to listen to the intro of Rae Sremmurd & Gucci Mane's 'Black Beatles' in peace while the whole room stands still. On a night like this, that's extremely comforting and a few seconds of serene bliss in an otherwise messy affair.
As we head into the early hours of the morning, I am growing tired, increasingly jaded and begin to realise how truly terrible wearing a collared shirt is. We decide to head down to the dancefloor to see Paris up close, hoping for some sort of adrenaline boost with the slight change of environment. In the midst of the action, some guy next to me starts yelling 'SUCK MY DICK' repeatedly at Paris, and that's when we decide to call it a night.
Paris Hilton's gig was strange and slightly uncomfortable. While the novelty and fun factor was definitely there, it was overridden by a rather predictable set that was executed clumsily. Not taking anything away from any of Paris' other achievements in the past, it appears that DJing isn't quite her forte – but despite all of this, she probably sold a fuckload of fragrances. That was the point of this whole tour, wasn't it?