Everybody on Planet Earth has a favourite DJ Khaled moment.
Remember that time he rode a jet-ski home from Rick Ross' mansion and got lost and documented the whole thing? That redefined edge-of-your-seat viewing. Have you seen this video of him spinning gleefully in a motorised shopping cart? Hit that motherfuckin' replay button. Did you notice how smoothly he injected a restaurant advertisement into the outro of an R&B song featuring Chris Brown and Fetty Wap? Organic marketing at its best!
But endless quotables, an addiction to jet-skis and an affinity with cocoa butter is just the tip of the iceberg when it comes to the enigma that is DJ Khaled. He's part man, part hit-making machine: A veteran production beast with an impeccable track record of Southern rap bangers and a tendency to yell his name obnoxiously at the beginning of every single. Still, nobody crafts collaborations like Khaled with such anthemic results that make you want to get shirtless and pour expensive liquors on the floor. Also, as evidenced by the picture below, Khaled has the strongest press shot game in the rap industry – looking like a cross between the world's most flamboyant philosopher and the world's most reliable drug dealer. Look at how crisp this beard line is: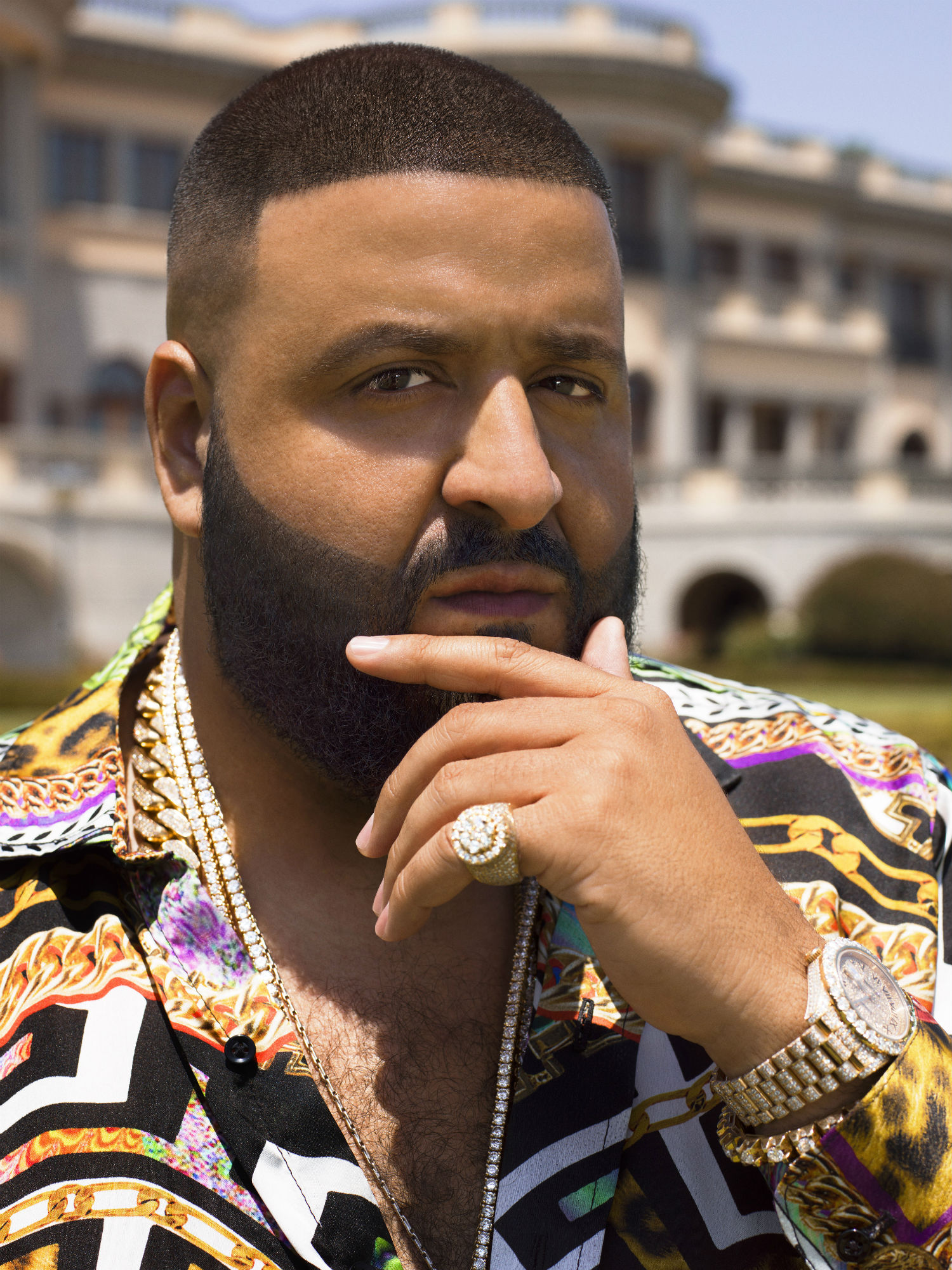 Khaled's talents have given him a longevity rarely seen in the rap game. He's on the verge of dropping his ninth album Major Key on July 29, with the first two singles currently on high rotation at clubs around the world. 'For Free' features Drake and will immediately make you want to wear an unbuttoned pastel shirt while driving an unlicensed yacht through the Port of Miami on a summer's day, with your chest hair blowing unashamedly in the breeze and tangling amicably with numerous gold chains. You are also surrounded by high-class European escorts. The more recent single 'I Got The Keys' pairs Future with Jay Z, and is already being hailed as one of the year's highlights and further evidence of Jigga's recent return to form.
With just a few weeks until Major Key blesses our earholes with more bangers, I was offered an exclusive Australian interview with DJ Khaled himself. I snatch the opportunity and sit patiently by my landline until his call, preparing for some of the greatest international telephone banter of all time. After a few minutes of waiting, I'm informed that Khaled is currently navigating through some "mountainous terrain" and that his phone reception isn't up to par. I'm imagining Khaled scaling vertical mountains, stomping through dense bush, swimming through quarries and hunting elk with his bare hands – Bear Grylls styles. In reality, he's sitting on a luxurious tour bus worth more than my house, driving from California to Florida. Soon enough, the "mountainous terrain" flattens and his phone is back in action.
Within the first 30 seconds, I know that DJ Khaled is definitely on one because he wastes no time getting into what does and does not constitute "special cloth" – and he's not talking about textiles. "I'm on the tour bus going through deserts and mountains, sometimes reception be crazy and we have no service. But the key is that we got service now. I got the keys, the keys, the keys," he says. The fact that the smooth operator Khaled name-drops his single so effortlessly into regular conversation is indicative of his passion – he's a man whose enthusiasm is downright infectious, and he has plenty to be excited about. Khaled describes 'I Got The Keys' as a "masterpiece" – and another chance to work with the legendary Jay Z after signing with Roc Nation earlier this year. "Me and Jay Z, that's my family, that's my brother. To even get the opportunity to push play is a blessing, for him to like it was another blessing," he says.
"Not only did I get a record with him in the studio, I got two verses and I got to shoot a video with the song. He rarely shoots videos, and he hasn't shot a video in a long time. For the icon to agree to shoot a video was amazing. It's for the culture, the people, the fans, the game, the love of it. Again, it's a special time," he continues. Indeed, it is a very special time, because the video for 'I Got The Keys' features Future wearing a turtleneck. Powerful. Future's codeine-laced drawl delivers the track's repetitive refrain, with Khaled quick to note his natural chemistry with the strip club enthusiast. "When we get together we record literally hundreds of records. He don't stop recording, I don't stop recording. It's a family energy. When we did the hook, I went back in the studio the next day and structured the record the way it needs to be," he says.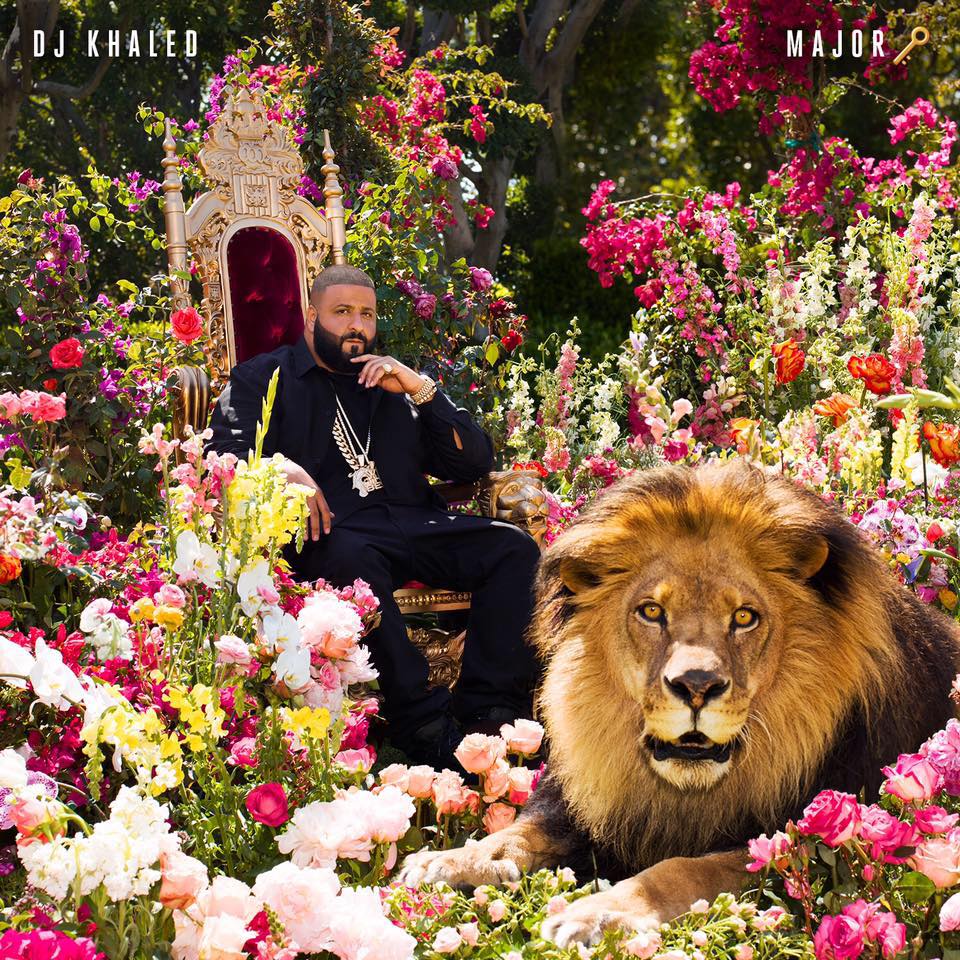 Music isn't the only generous gift that Khaled has been bestowing upon us mere mortals. He also recently unveiled the cover art for Major Key, which is being praised by everybody in the Life Without Andy office as this generation's equivalent of the Mona Lisa. Besides using an emoji in the title, the art also references aesthetic trademarks from Khaled's social media game – in particular, his preferred habitat of Snapchat. Khaled calls the art "spiritual and iconic," and something that "represents everything I represent." "The flowers is positive energy around me at all times, embracing life, giving thanks and all praise to the most high. The lion is the king of the jungle. I'm a lion, you know? My fans, they know how much I love my lion at the crib, they know how much I love my flowers, and they know I'm a king. Everything is real. I feel like it's one of them covers that people will hang poster-size in their room 20 years from now. The key is to make it iconic. You can't just talk it, you got to live it," he says. Can somebody invent a time machine and fast forward me to 2036 so that I can sit in a room full of framed Khaled posters and jet-skis?
With Khaled's recent shine in the spotlight, some may be forgiven for forgetting that he has over two decades of non-stop hustling in the hip-hop world, while 2016 also marks a decade since he launched his We The Best imprint. "I'm a hustler, I go hard. I'm never stopping. I love hip-hop, I started from a garage – turntables, drum machine, records and a microphone. I took something that I loved, and made it into a career that I still love," he says. Over the years he's been affiliated with many cliques, including Bronx legends Terror Squad – while he names Fat Joe and the late Big Pun as inspirations alongside Barack Obama, Muhammad Ali and Michael Jordan.
"All these great artists I've been inspired by, but at the end of the day, all the people I named are themselves. They're one of one. You've got to put DJ Khaled in the category of one of one. I feel like DJ Khaled is a special energy and a special force when it comes to representing We The Best worldwide," he says. Khaled hasn't forgotten his roots though, reflecting on how Fat Joe helped him secure an early label deal. "Koch Records didn't realise they signed the biggest thing at the time… I worked so hard that they had to catch up, they didn't recognise that they had a rocket flying. I just appreciate Joe Crack saying 'Give my brother a chance.' That's love," he says. Now, it seems as though that rocket is soaring ever-higher into the stratosphere of Southern rap. After looking back on his illustrious history, Khaled is confidently optimistic and poetically succinct when I ask what's in store for his future:
"There's going to be more keys."