There are few hip-hop artists who earn a more fiercely polarising reaction than Canada's own goofy, friendly-faced mascot: Drake.
Alarm bells should be ringing when you find out that Drake's real name is Aubrey. Who wants to listen to a rapper named Aubrey? Rap is supposed to be tough, right? It should make you want to rock a du-rag without a shirt on, right? Therein lies Drake's greatest accomplishment: He's forced listeners to rethink the genre and how it interacts with other sonic spaces, particularly the mainstream.
Over the years, Drake's formula for success has been brewed thoroughly in a gold-plated cauldron of tears and introspection. Alongside producer Noah '40' Shebib, they've taken the sounds from Kanye West's 808s & Heartbreak and driven them even further into a bleak abyss of self-loathing reserved for mascara-lined emo records. 'Hate Sleeping Alone' is the perfect song to play during the four minutes it takes to microwave a Lean Cuisine alone in your parent's kitchen as you consider joining The 27 Club. Or perhaps it's the tune that runs through your head when you're the last man standing at last drinks, solitary at the cheapest strip club in town. Whatever the case, Drake's music acts as a sonic and platonic big spoon, telling you it's okay to feel like a worthless piece of shit every now and again.
Still, despite his preference for pensiveness, Drake's catalogue has moments of unashamed ignorance and bravado. On 'Trophies' he says, "Bitch, I use a walkie-talkie just to get a beverage" – probably referring to his endless stream of slaves on speed dial who serve up ice cold cups of soy milk. On French Montana's 'Pop That' he raps about how much jewelry he owns while surrounded by gigantic, surgically enhanced asses. He sounds blazingly confident on '5AM In Toronto' and nonchalantly venomous on 'Energy'. Drake's chameleon character means that he's conflicted and contradictory, boastful and vulnerable in between bars – a three-dimensional pop powerhouse formerly known as Wheelchair Jimmy in a past life. You just can't make this stuff up.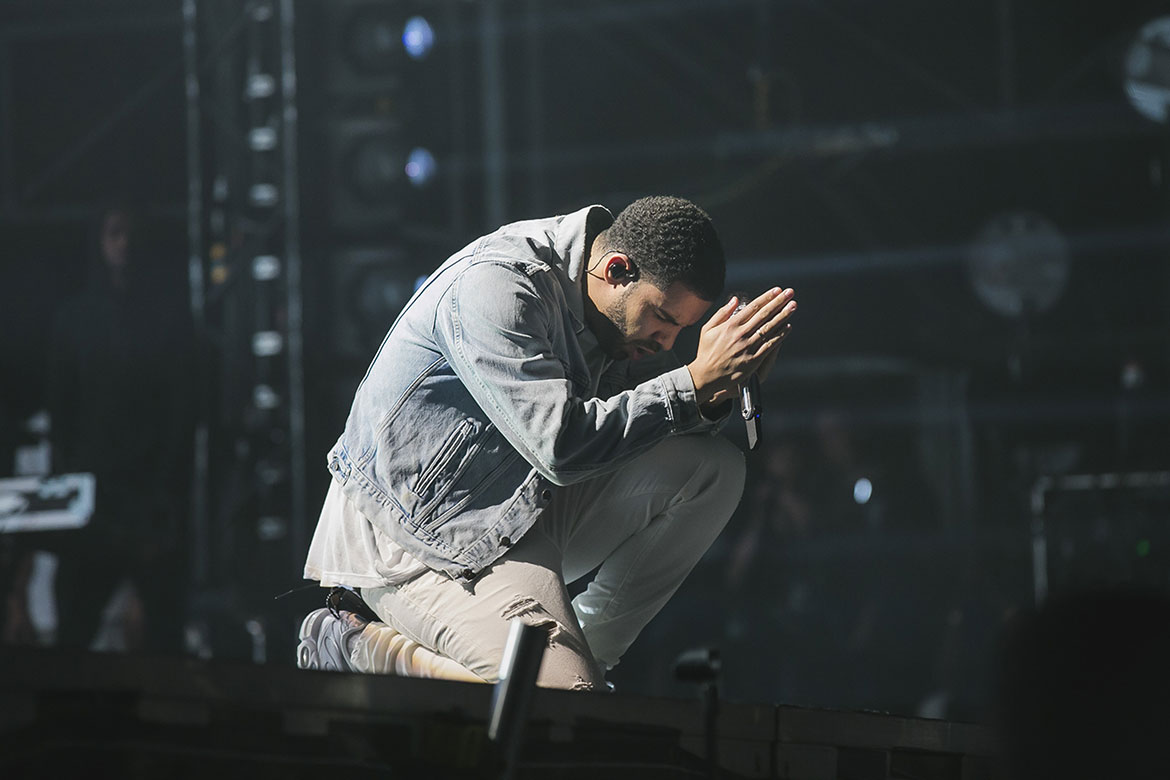 It's been well over two years since Drake dropped his last official album, Nothing Was The Same. A lot has happened in since then: Drake shat mercilessly on Meek Mill, became the first Canadian signed to grime collective Boy Better Know and made international news when he used a lint roller courtside at a Raptors game. He also embarked on his first Australian tour in 2015, where he rode a trapeze and wore a Wallabies jersey. I was lucky enough to witness his Sydney show where a punter asked to borrow my bottle of water to wash down some MDMA, turning 'Marvin's Room' into 'Marvin's Horrendously Scat Comedown Corner'.
Come 2016, and hype for Views has been omnipresent since 'Summer Sixteen' dropped at the beginning of the year, building momentum from Drizzy's streak of spotlight-stealing triumphs. The album is an ode to Drake's hometown of Toronto, where he flys the Canadian flag with vigour against an overcast, greyscale sky. It begins with 'Keep The Family Close' – a five-minute epic of dramatic crooning and orchestral backing, like a cinematic James Bond theme with less gusto and no gunfire. Still, its grandiose nature sets the scene well for an ambitious 80-minute marathon of an album.
'U With Me?' continues Drake's habit of sampling rappers who are harder than him, taking refrains from DMX before quoting Chief Keef's breakthrough drill anthem 'I Don't Like'. Drizzy is probably the only artist who would twist two brash gangster rappers into marshmallow down-tempo R&B, while the track's cathartic crescendo serves as an early highlight. 'Weston Road Flows' is an easy favourite for those who prefer Drake in rap-heavy form, while 'Hype' ticks the mandatory 'banger' box for adrenaline junkies who want to dab in a dance circle or whatever the hell Drake fans are doing in their latest Snapchat video.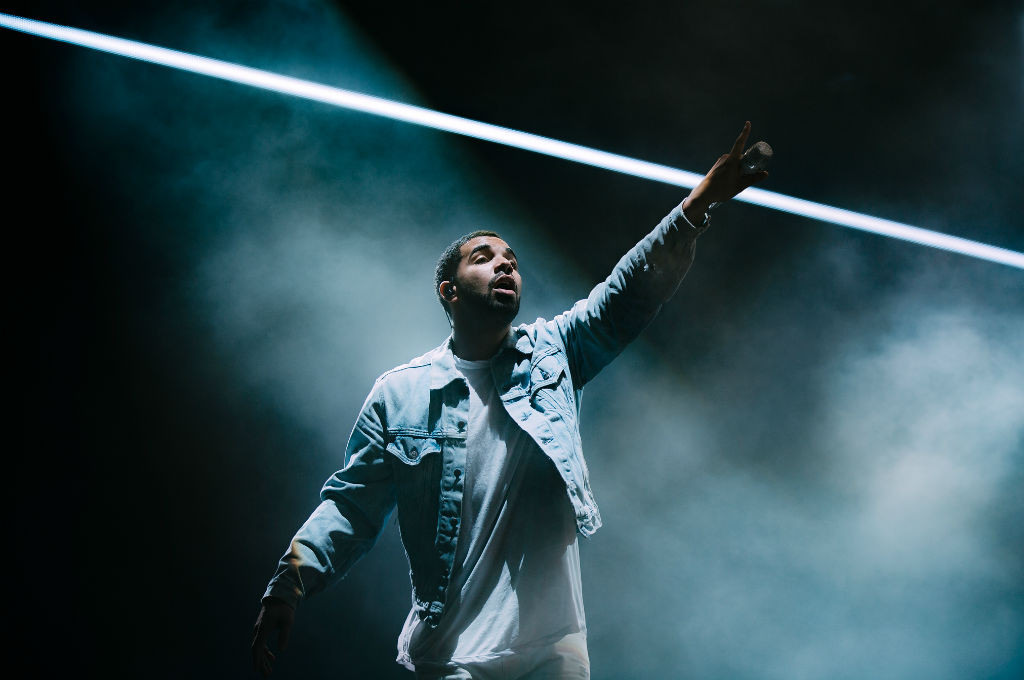 Drizzy continues his long-standing Houston obsession with a misplaced posthumous verse from late legend Pimp C, while other features produce mixed results. 'With You' starring PartyNextDoor pales in comparison to the duo's previous collaborations, and while 'Grammys' with Future feels like a What A Time To Be Alive throwaway, I'm sure it will sound phenomenal when I'm seven bourbons deep at Halfway Crooks and doing a shoey out of an Air Max 95. 'Too Good' with Rihanna raises the bar, continuing the duo's catalogue of heated chemistry and fuelling another 17,342 clickbait articles about their rumoured relationship.
Although this album is predominantly for sad people, Drake does show us glimpses of sunshine through the clouds. With its throwback UK flavour, 'One Dance' is already a club favourite, causing a stream of zesty cocktails and curvaceous women to flood the dancefloor. 'Controlla' places us in the Caribbean with its nonchalant, hip-swinging rhythm, while 'Child's Play' pays homage to New Orleans Bounce by sampling HaSizzle's subtly-titled song 'She Rode That Dick Like A Soldier'.
In the era of SoundCloud singles and shortening attention spans, Drake has already proven that he can deliver smash hits in his sleep. On Views he crafts a cohesive record that's bound to be comprehended as a whole body of work – there's hardly anything with the commercial firepower of 'Started From The Bottom' or even 'Headlines'. At times Views is exhausting, but we expect that this record will appreciate over time, standing on replay during lengthy public transport rides when you're trying to ignore the guy in the back seat asking you for a spare durry. Despite his global successes, Champagne Papi's glass of bubbly is still looking half empty, and we wouldn't have it any other way.